Solid Ground Curling (SGC)
The solid ground curing Process of the Israeli Firm Cubital employs a UV Lamp and a Light mask for the hardening process.
The process relies on 2 parallel work cycles:
1. In the masking cycle a pattern is developed on a Glass plate with a photo copier system and then after the light process wiped clean.
2. The layer building cycle is a costly build process. The solidifying process surrounds the model with wax. In the first step, a thin layer of hardened polymer is laid on the finished layers. This is exposed through the prepared Mask. Then, the unexposed liquid resin is sucked up, and a layer is complete. To remove the resin around the polymers and to guarantee the liability of the layers, afterwards the complete layer around a certain depth is milled off.
To finish the parts they must be cleaned by dissolving the wax shell by flushing it in a warm solution (for example, with lime extract).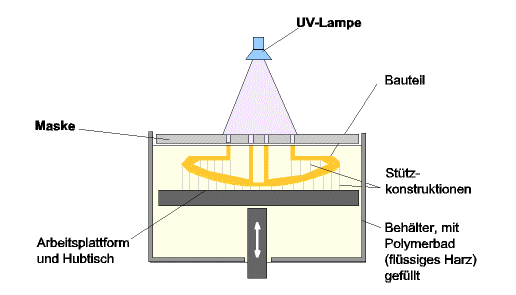 Picture: Illustration of the Solid Ground Curing process
Application:
Fabrication of complex geometry
Fabrication of complete objects with high or fine requirements
Production of movable parts or mechanisms (ex. gears within a gearbox)
Ergonomic aesthetic surfaces or free form surfaces (Equipment of the precision engineering)
Irregular and complicated parts

Parts with deep loops, large undercuts, weak walls
Notched parts with notches with minimum 0.1 width
Advantages
Disadvantages

High accuracy
Hohe Arbeitsgeschwindigkeit
Complete hardening of the complete volume (without after curing)
No support construction

Limited work materials and correspondingly limited properties
Too much cleaning of the partConstant resin waste independent from the size of the part, but rather in dependence with the number of layers
Large and heavy machines